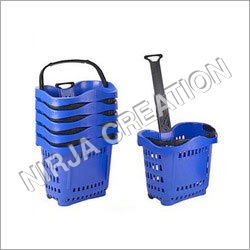 Wheel Shopping Basket
Product Code : 13
Product Description
Wheel Shopping Basket
As it is said that for good sales, it is necessary to make your client happy because from sales to profit margin, everything depends upon the mood of the shopper. Therefore, it is important to make the shopping experience of all the shoppers outstanding. And to do this, one of the most essential aspect that should be taken into consideration is the shopping cart. Our offered Wheel Shopping Basket is an ultimate solution that helps in fulfilling all the requirements of a shopper as well as of the shopkeeper. It helps the shoppers for holding the products effortlessly that results with the higher sales of products and in return higher profit for the shopkeeper. Wheels and sturdy handle allow the Shopping Basket to freely move around the store that can be easily carried by the children also. It renders comfort and convenience to the shoppers while shopping for their necessities.
Reasons to opt for Plastic Shopping Basket
Being light weight in nature, Plastic Shopping Basket can be easily ported from one to other and helps shoppers to carry the goods easily.
In comparison to the metal ones, baskets made of plastic do not bend, if knocked against anything or gets damage due to corrosion.
While buying heavier items, handles of metal carts can dig into the shoppers' hand preventing him from buying more groceries.
This results in the lesser sales and profit of the shopkeeper, as the customer will checkout of the store without buying anything else because of the bulky metal basket.